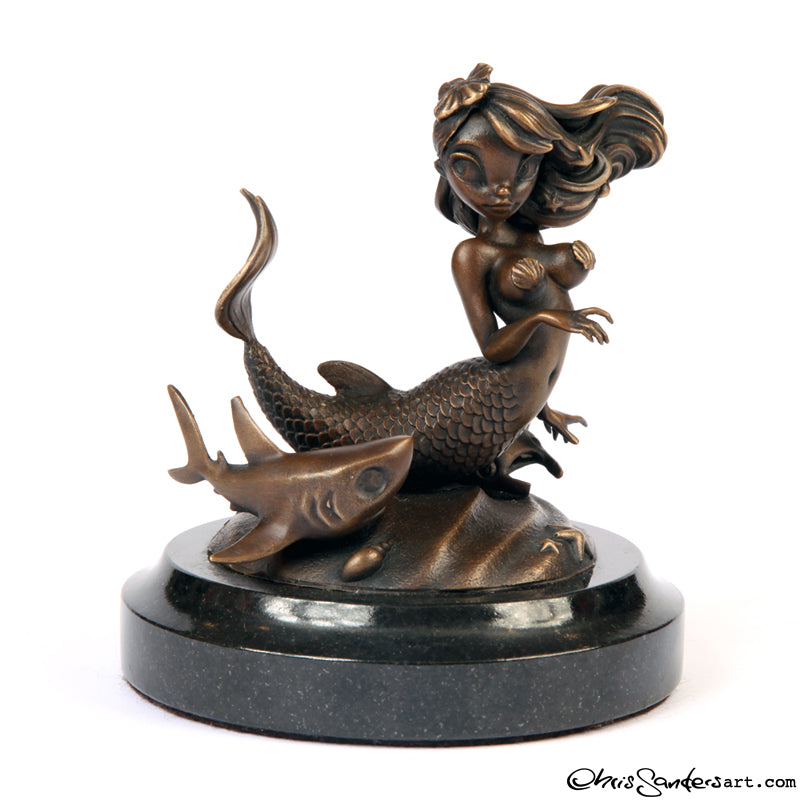 Chris Sanders Mermaids: Nimue bronze statuette (2013)
This is a smaller version of the original Nimue, and was created from the same digital sculpt by Anders Ehrenborg. Mastered by Gentle Giant and cast by American Fine Arts Foundry, she is solid bronze, and rests on black granite. The sculpt as shown is 4 1/2" tall including her base. She weighs in at 2 lbs, 6 ounces. Her hands, arms and flower were so detailed at this size that they had to be to be cast separately by a jeweler. The tail fluke is admittedly sharp, so displaying it next to your alarm clock might not be a good idea.

Originally conceived to shrug off the effects of an extended burial (a whole different story), we decided that since we were going through the trouble of making one, we might as well cast a few more. There are a total of fifteen of these in existence. Anders Ehrenborg, Chris Sanders, and Jessica Steele-Sanders each own one; two were hidden in the Outer Banks; one resides in a glass case at Trader Sam's Grog Grotto inside Walt Disney World's Polynesian Village Resort; and several more have been sold to private collectors.

Produced by Gentle Giant and American Fine Arts Foundry from a sculpt by Anders Ehrenborg.

Availability: not currently for sale.